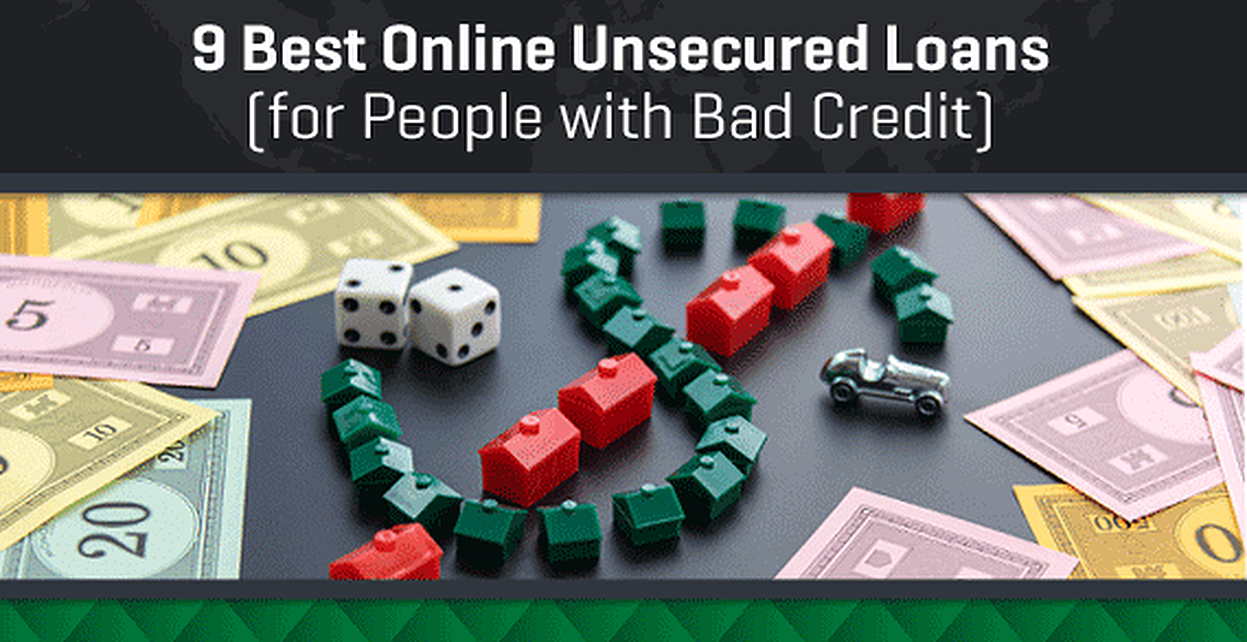 Our popular "How-To" series is for those who seek to improve their subprime credit rating. Our articles follow strict editorial guidelines.
Growing up, my brother never seemed to completely grasp the concepts behind the game of Monopoly. He'd sail his little metal ship around the board, purchasing properties all willy-nilly, then have to go to my grandmother for a loan to cover the cost of staying in my luxurious Illinois Avenue hotel. Unfortunately for my brother, at a certain point my grandmother would have to cut him off — usually after the third "loan" he couldn't repay.
Like my brother, many consumers have made financial mistakes on their way around the board, but they still need financing for other important expenses. Finding unsecured loans with bad credit can be tough (especially if grandma isn't an option), but it isn't impossible. While you should be prepared to pay higher interest rates than your good-credit comrades, you can often still find the loan you need regardless of credit status.
Installment Loans | Short-Term Loans | Unsecured Credit
The Best Unsecured "Installment" Loans for Bad Credit
Installment loans are those that are repaid in regular installments, typically monthly payments, over a period of six months or more and often extending for several years. Unsecured personal installment loans can be obtained for amounts ranging from $500 up to $35,000 and can have term lengths as long as 72 months (six years).
It's critical to compare rates when looking for a personal loan, especially an installment loan you may be repaying for years to come. Since finding a great loan deal can sometimes be a matter of playing the numbers, those with poor credit may have the best luck using an online lending network to shop for loans. Online lending networks, such as our top-rated picks below, connect borrowers with lenders from across the country.
Before taking on any financial commitments, particularly an unsecured loan, you should crunch the numbers to determine how much you can afford — and how long you'll need to repay it. Online loan calculators can be a great resource for this, as they'll take the math out of the equation, allowing you to simply enter the loan amount, interest rate, and payment frequency to see all of your estimated repayment details.
The perilous part of an installment loan for many borrowers is the option to extend your loan to reduce the size of your monthly payments. What you'll need to remember here is that the longer you're repaying the loan, the more interest fees you're paying, as well. Avoid extending your loan terms unnecessarily to minimize the overall cost of your loan.
The Best Unsecured "Short-Term" Loans for Bad Credit
In contrast to installment loans, short-term loans (sometimes called cash advance loans) are typically repaid in a single lump sum that includes both the principal borrowed amount plus the finance charges and any other applicable fees. As the name suggests, short-term loans are also shorter in duration than installment loans, generally lasting between seven days and three months.
Due to the limited duration of these loans, you should expect to pay significantly higher APRs for short-term loans than other credit products — like several digits higher. At the same time, these loans can usually be obtained quickly and with minimal credit requirements, so long as you have a valid checking account. Our expert-rated providers include online lending networks that can help you find the best deal.
Although they can be a useful resource to cover unexpected expenses between paychecks or before an expected windfall, it's absolutely vital to not depend on short-term personal loans to cover the costs of everyday living. This can lead to a dangerous cycle in which you take on a short-term loan, are unable to repay it in full, and must add more fees to your total by extending your loan.
If you find yourself relying on short-term personal loans to keep up with daily expenses, you should take a long, hard look at your finances — before you take on any more loans — and work on finding places to save (or to earn) to make ends meet. Not only will this help you avoid huge finance fees, it may help you prevent causing more credit damage along the way.
The Best Unsecured "Credit Card" Loans for Bad Credit
Although most financial experts — including us — would advise you to avoid carrying a balance on your credit card whenever possible, some occasions do occur in which it might be a better idea than the alternative. This is particularly true when you're considering taking on a short-term loan to finance a purchase you might not be able to repay when it comes due.
This scenario works best when the APR charged by your credit card is less than that charged by the loan you would otherwise take on. Considering your average short-term cash advance loan can have a three-digit APR, it isn't difficult to find a credit card that charges less — even when you have bad credit. We've put together a list of credit cards with flexible credit requirements that may be better options to short-term loans.
+See More Credit Cards for Bad Credit
In the subprime credit market, many products come with fine print and caveats, and credit cards for people with bad credit are no different. These cards will typically charge a variety of fees beyond the basic interest fees, including initial program or processing fees to open the account as well as annual or monthly maintenance fees.
On the plus side, the way credit card interest works means you may avoid interest fees altogether by taking advantage of the grace period. In essence, if you can pay off your credit card balance before your bill's due date, most cards won't charge you interest on that balance. You can check your cardholder agreement to verify that your credit card provides a grace period.
Borrow with Care to Avoid Negative Credit Impacts
No matter which type of loan you use to meet your financing needs, always remember to be careful with how much debt you take on. Unlike the Monopoly money my brother borrowed with abandon, real-life loans come with real-life consequences, including credit score damage that can make your future financial endeavors all the more difficult.
As for my brother, while he never did get the hang of successfully sailing around the Monopoly board, it may be that he really did learn some important financial lessons from our erstwhile entertainments. At any rate, he now has a burgeoning bank account and a home of his own — just a few streets over from Illinois Avenue.